Automatic dosing line – Hemi Line
–
Automatic dosing lines serve wide range of liquid products from cosmetic field, chemical industry or household applications. Pouring lines produced by us are intended for dosing the products with various degrees of viscosity and density. One of advantages of our devices is broad range of a dose and high flexibility. Dosing is performed by means of flow meters (mass flow meters, electromagnetic ones) or by volumetric method (piston-based). Lines are equipped with dose control systems and filling nozzle with servomotor, pouring the fluid just under the liquid table if necessary, preventing product foaming. Dosing line can be equipped with different types of add-ons, including automatic packaging and cap sorters, carton box packaging machines and palletizers.
Fully automatic filling and closing of chemical products:
4-6 servo-driven filling nozzles
The electromagnetic flowmeters – a wide range of industrial chemistry products and household chemistry doses
Productivity: ~ 40 pcs./min
Cap presence verification system
Technical characteristics of the automatic filling, closing and labelling line

Fully automatic or integrated system of modular functionalities, filling, closing and labelling based on a transporter without pucks.
Thanks to its filling system, the machine is able to handle a very wide range of fluid volumes, various viscosity and density, foaming, alcohol-based, etc.
The machine is designed for quick changeovers and frequent format changes, for which no tools are needed. Thanks to its linear design, the machine does not require long start-ups and mechanical adjustments when starting new formats.
The machine works with almost every type of cap and bottle.
Thanks to its modular construction, the line can be easily expanded with further applications.
–

The main features and benefits of the automatic filling and closing of chemical products

–
Toolless change of settings – with no changeover of the whole line
Very fast and simple to changeover
Hygiene and work safety (drives placed over the working area)
The machine is compatible with most available liquids
Changeover of the machine does not require tools and takes approximately 25 minutes
The filler is equipped in system to control filling volume with following the level of the nozzles to prevent splashing if required
The electromagnetic flowmeters – a wide range of industrial chemistry products and household chemistry doses is useful
4-8 servo-driven filling nozzles
Thanks to the flow meter system, the machine is capable of operating over a very wide volume range of 20-5000ml
the wet system is made of PVC
The dispensers generally work with a buffer tank; for aggressive liquids we cover them with a resistant PVA cover
Centring of bottle necks
It is possible to make a chemical proof dispenser
stainless conveyor belts in machine, drip trays for chemical editing
washing of the conveyor or conveyor chain for chemical liquids
All components which have contact with liquid dosing are easy to dismount
The machine covers are made of safety glass (all except the labellers)
Capping of any type of caps (triggers, sprays etc.)
Cap presence verification system
Capping machines for any type of closures: cosmetic pumps, sprays/triggers, flip-tops, push-pull closures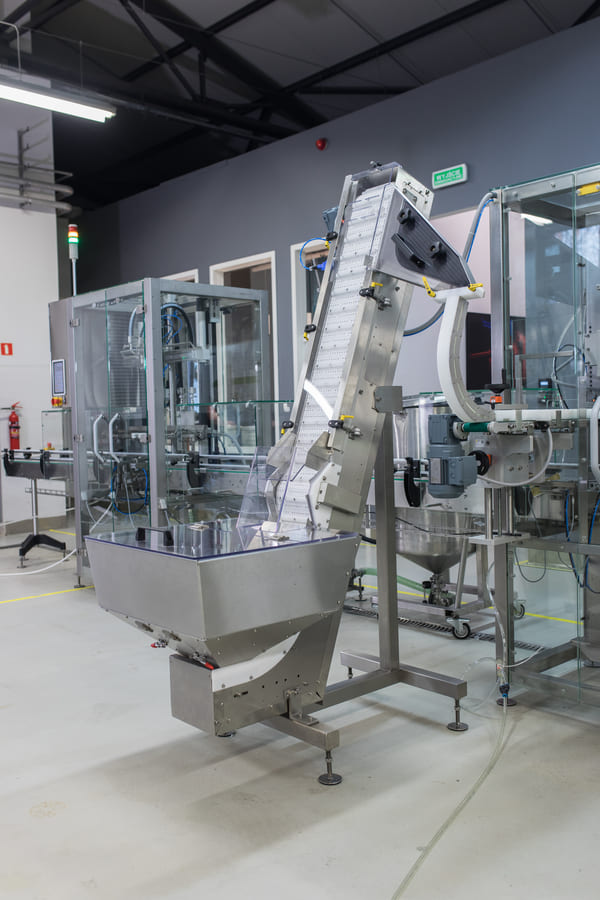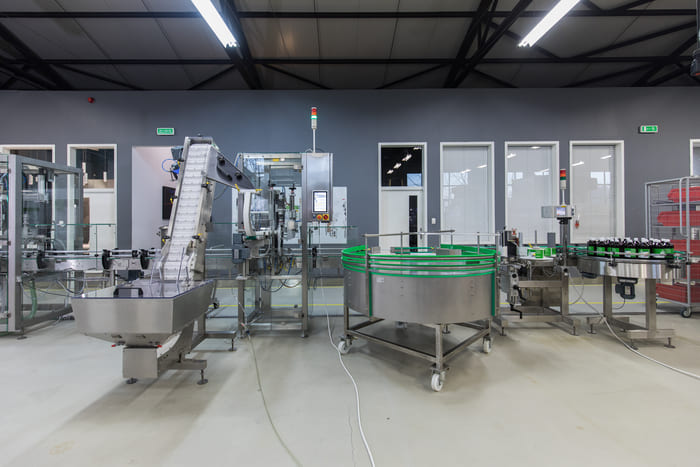 Possibility of automatic infeed of closures to the capper
Closure quality control system with optional reject station
Precise labelling of packages
Possibility of detecting the presence of a label
The machine works with almost every type of cap and bottle
Productivity up to 50 pcs./min
Possibility of adding an alu lids sealing device
Dynamic flow scales
Feeding of two closures or insert (push station)