Cleanline – Magnetic line
–
Flexible robotic line with transfer of packaging by magnetic conveyor!
Built your production line with all our U2 equipment!
Technical characteristics of the magnetic conveyor system

Cleanline is an integrated system of robotised modules including the form of a closed monoblock created agreeably to Industry 4.0 conception on the basis of the best components to enable you to meet the growing requirements of your customers.
Fully automatic robotised sorting, dosing, capping and labelling line for lotion, skincare, perfumes, homecare, etc.
Cleanline is a solution that works with virtually any packaging shape and type of closure. The machine is designed for quick changeovers and frequent format changes. The format elements are printed on a 3D printer, which allows you to produce them quickly so it will allow you to launch new packages to the market  in a few hours. Compared to traditional solutions, the machine has a much higher productivity per square meter of its area thanks to the maximum reduction of buffers based on the magnetic conveyor module. The Cleanline productivity is 50 – 60 or 100 – 120 pieces/minute depending on custom realization, liquid and components.
–

The main features and benefits of the automatic magnetic conveyor for sorting, dosing, capping and labelling of liquid products

–
Designed for short production batches
To introduce a new product you only need: a scan of the packaging, prepare the construction model for printing and print the 3D format part. 3D printed format parts allows to introduce new product directly after getting ready element
The machine works with almost every type of closures and bottles
The closed structure of the machine and the option of blowing the packages allows to work to a high quality standard
Fast and easy toolless changeover of  format parts to another product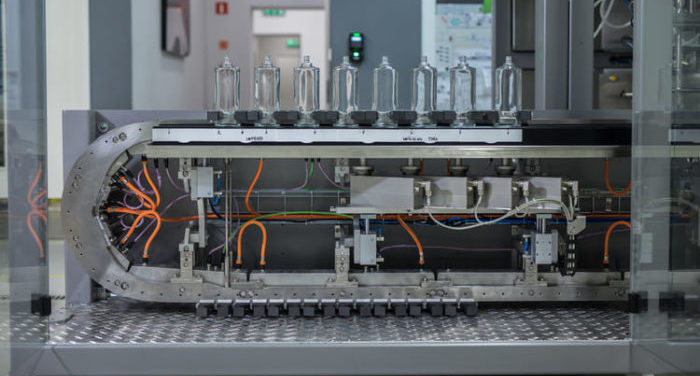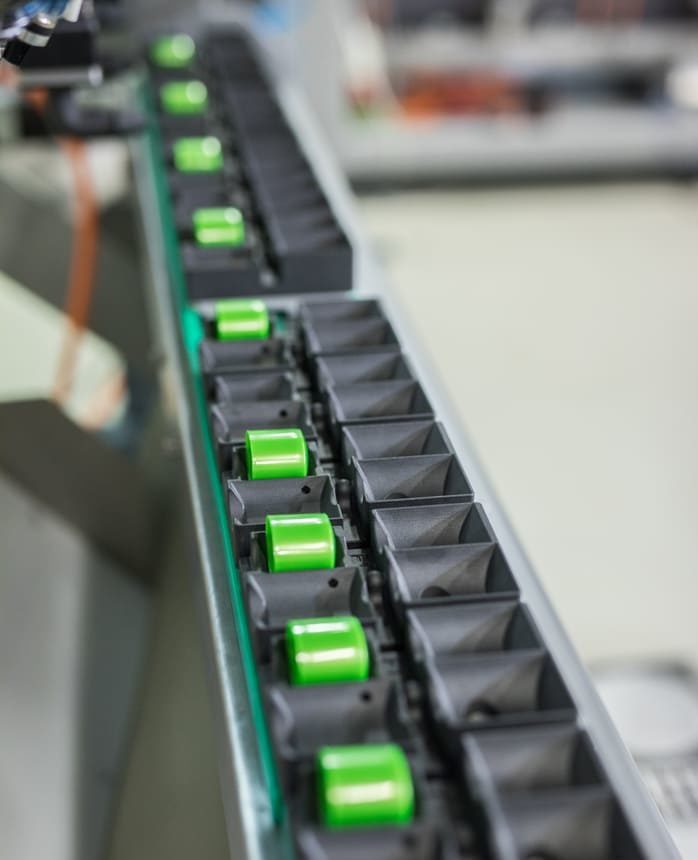 Transporter
Possibility of simulation of machine performance with additional process – not possible with traditional conveyor
Integration adaptability: Intelligent conveyor is more flexible in terms of integration of additional applications in later stage of your project. You can for instance decide to add an additional station e.g.:second capping module (to achieve better efficiency) or weighing station
Anti Splashing function: possibility of transporting bottles with high filling level and low viscosity (not possible on linea machines because of splashing)
Thanks to its software we have full control over every millimetre of the transporter, thus  there's no danger of collision of shuttles with each other
Shuttles are easily removable – fast and simple cleaning or changeover
Intelligent conveyor system enabling filling of various package types without puck and large format parts
Dosing
The robotised dosing line is useful for a wide range of soaps, shampoos, emulsions, household and chemical products
The integrated CIP procedure ensures fast and effective cleaning without unnecessary breakdowns
Self-learning and dose tracking system guarantees filling accuracy and a high quality of final product
Ability to rotate the packaging at the time of dosing (particularly important when dosing high viscosity liquids)
Dosing-flow meter system equipped with an automatic cleaning system with up to 99 programmable cleaning process settings, for the selected fluid, and controlling the individual stages in the cleaning process with information on the panel about the current status
Capping
Automatic sorting of  bottles and closures consisting of several components.
Verification system for quality and presence of the closure
The machine equipped with two delta robots is able to replace the work of up to 8 operators
The design of the cap sorter allows optimal distribution of closures across the entire conveyor width and reduces damage to fragile closures.
Labelling machine
Possibile non-stop labelling with double labelling heads
maximising OEE.
Productivity up 60 or 120 ppm
The line is made up of the different modules from our range according to the needs of the project. Modules to discover in the machines section.