By choosing U2 ROBOTICS you're making an investment in the future of your company. Our machines unite cutting-edge technology, modern design and a high-quality engineering solution.
WE ARE SOLVING CHALLENGES OF MANUFACTURING
Large influence of e-commerce, connected world, and broken supply chains brings new challenges to manufacturing sector
Traditional production systems are large, designed for high production quantities of similar products
Frequent changeovers for new products is reducing productivity and causing high costs of format parts
Format parts are large and are consuming a lot of space
Low productivity per ppm
Customer are expecting shorter delivery times, small order batches, and large diversity of types of products (including personalisation)
Long run production is causing a lot of "bad stock" of goods irrelevant to market needs
Customers are demanding greener circular economy, using more recycled materials, recycling easier, which brings additional challenges to processes
Producers are suffering from lack of components, being forced to adopt quickly for available ones which creates additional redesign, change parts and start-up costs
Society is changing, there is less and less highly skilled employees, able to operate complex and expensive machinery which causes losses and lack of productivity
There is less and less employees who wants to perform simple repetitive manual tasks, cost of workforce is rising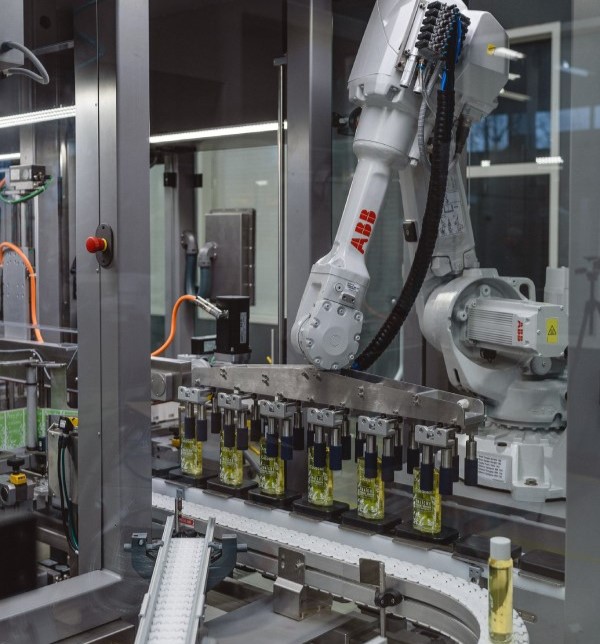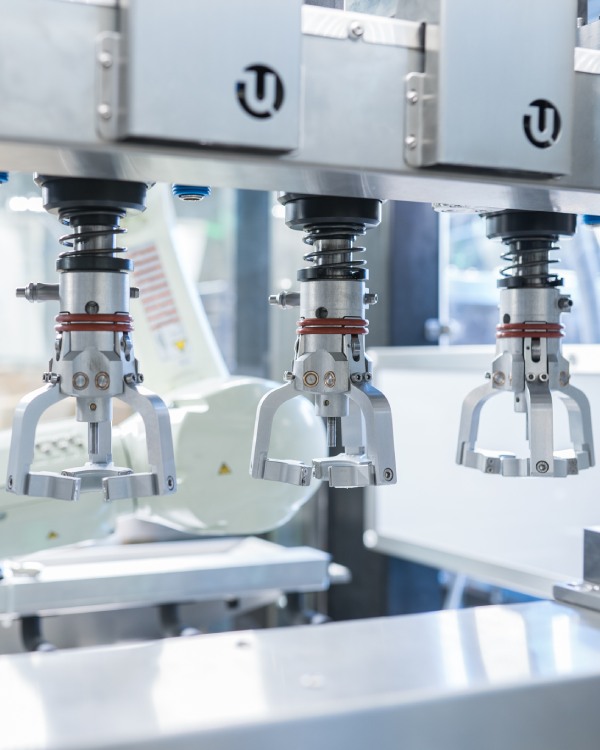 We deliver truly flexible factories using current industry 4.0 tools, our machines can adapt as fast as market changes, to keep your business competitive
Our systems are designed especially for short production batches of wide range of products, using robots and flexible/3D printed tools is helping us to achieve low change part costs and quick changeover
To achieve that we heavily invested in integration of proven technologies: Industrial robotics, intelligent transport systems, 3D Printing, OPC/UA, HTML 5, and various web tools
We believe in power of usage simplicity – our fully automated robotics platforms can be driven by operators without high engineering skills and experience
Data analysis Pack OS software and various web tools are helping to increase ramp-up time which is main reason of productivity losses. Preventive maintenance tools helps us to reduce downtime
We focus on adaptive machinery, in each case targeting important industry challenges by specialised factory.
In our portfolio we have machinery for: unscrambling, depaletising, filling, capping, labelling, case packing, assembling, palletising
We engineer to order, machines and whole flexible lines, custom-tailored for our clients needs: from the design stage to the machine's completion and testing for multiple formats
The whole process from design, production and assembly takes place in our plant.
We believe that robotic is the solution to preserve human creativity by leaving repetitive work to specialised machines
6 main points of our methodology
–
Attention to your needs
–
Every business has a different target and a different product approach. To be able to provide our customers with the personalized solution we do everything possible to understand their needs.
–
Suggestions of solutions
–
Nobody knows the production line better than our customers do. So, we are considering the smallest details pointed out by our clients to be able to create the most appropriate automated packaging solution.
The next step is implementing these projects. Rigorous work of our technical designers, automation engineers and assembly specialists allows us to bring to life even the most challenging ideas of our customers.
The implementation of a machine in the existing line is the stage that shows the previous work. The know-how of our specialists will ensure a smooth installation with a minimum of difficulties.
Even the best equipment is useless if your employees don't know how to deal with it. We propose our customers professional equipment trainings to maximize the performance of their packaging line.
Once you plan to improve your packaging line or you encounter any problem, our technician team will be there to help you. The main objective of our customer service is to make you enjoy the work with our machines.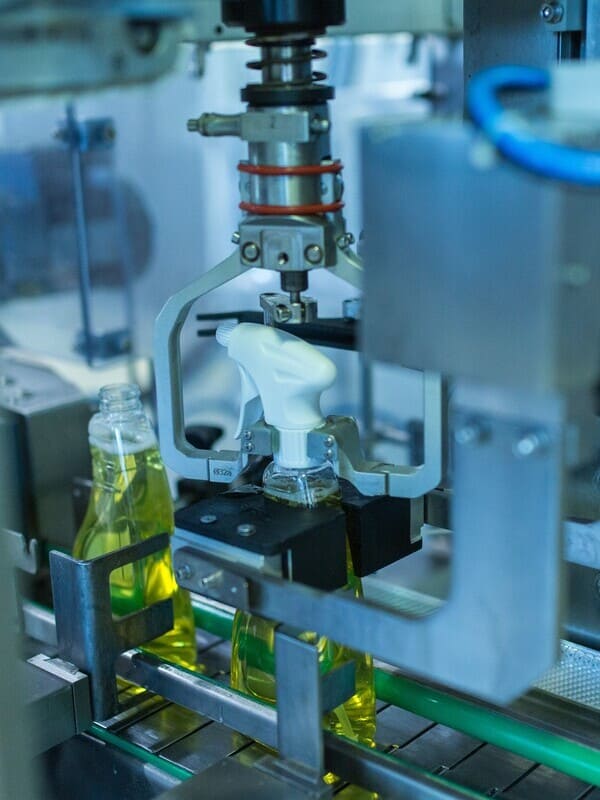 Unilogo is more than just a tech company. It's a family of passionate engineers, designers, constructors and innovative minds who together create an unstoppable team.
With over 20 years of experience in production line machines, we had our fair share of time to learn, develop and grow to become our best self. We now offer a range of the most innovative, advanced, unique products that are bound to give our clients the most desired advantage flexibility. Whether it's depacking, filling, welding, capping, labelling or palletizing, we have it all. Delving into different industries, such as cosmetics, chemical and household has allowed us to gain invaluable experiences and versatile lessons in each one.
This has helped us to prepare for many challenges ahead Years of trials, development and research continue to bring spectacular results and innovative solutions as we export our machines to more and more locations around the world. Unilogo knows that there is no better way to move forward than learning from our mistakes and others in the industry.
That's why we constantly partner with foreign companies, seeking the best solutions and combining our strengths to create something truly remarkable and bring tomorrow's technologies to your doorstep.
3D printed format parts, laser precision and state of the art efficiency are a staple in our machines. Designed and manufactured with flexibility, sustainability and adaptability in mind, the products practically flow through the line in a fast, seamless process supplying our customers with high quality end products and low maintenance, user friendly systems.
We offer several extensions so that each machine can be accurately tailored to fit clients' needs. We engage wholeheartedly in not only our professional work, but also in sports and charity work. Many of us enjoy running and bonding over a game of football.
UNISTA started on the market in 2007 as an automation service company.
A few years later, thanks to a project uniting automation and mechanics, the first robotic cell was born. Today UNISTA is a company recognized for its robotic solutions, combining performance and flexibility. We are convinced that a human being is worthy of creative work. A job that gives possibilities of personal growth. A job that makes you want to get up in the morning and invent.
As a developer and producer of industrial machines, the main goal of UNISTA is to find simple solutions for complex issues. That's why at UNISTA, we give a great importance to the customer service. From the beginning of conception until the implementation. Firstly, we are trying to understand your needs to be able to answer to them. Which function you might need to automate and why? Which solution could we propose in order to match your needs? To achieve our project goals at its finest, we use an "Agile" method. This method is based on 4 values:
Individuals and their interactions rather than processes and tools
Operational software rather than over-detailed documentation
Teamwork with our customers rather than contract negotiation
Adaptivity to changes rather than following a predefined plan
From the start until the end of your project you'll never be alone, because we give the highest importance to the support of our customers in creation of automated packaging machines.
The creation of automated packaging lines, the custom-made equipment and the customer service are the main activities of our company. With our standard machines for items distribution, capping, pucks and buckets unloading, case packing and palletizing UNISTA can respond to your needs.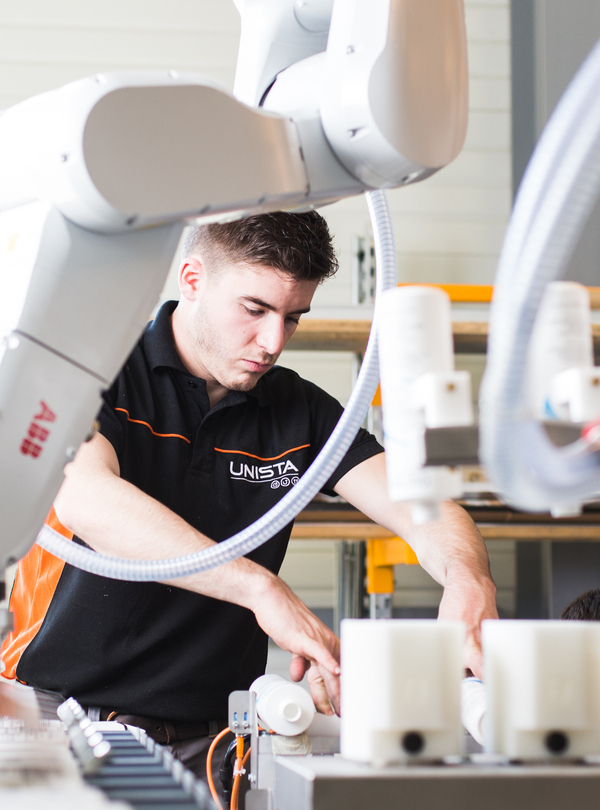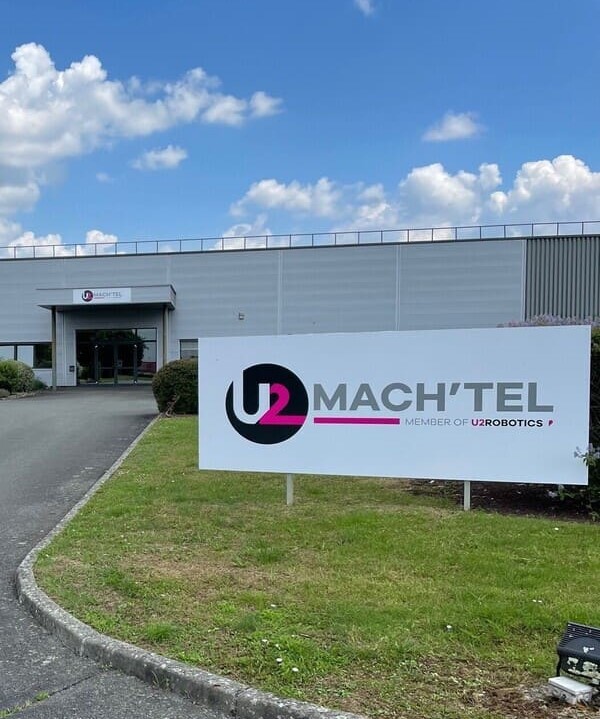 With his experience acquired since 1982 in the most demanding industrial sectors, MACH'TEL is the specialist in assembly machines, whether semi-automatic or automatic. We operate in fields as varied as Cosmetics, Automotive, Plastics, Pharmacy, Armaments, etc…
Our motto ? Know-how before proposing.
Our technical-sales and pre-project teams ensure the feasibility and viability of your needs before submitting any proposal to you. Then, our mechanical design, automation and robotics teams and then our assembly and development teams bring your project to life. We are committed to providing you with equipment that fully meets the commitments made together. As a guarantee of success, we follow a proven business monitoring process that has been awarded ISO 9001:2015 certification. Technically, we offer 3 large families of machines for assembling your components, and a multitude of trades to meet the most complex needs: For the most conventional needs, we offer an island in the form of a circular plate with intermittent movement. The diameter and the pitch of this plate make it possible to integrate the number of functions necessary according to the size of the articles to be treated and the desired rate. For more flexible needs, particularly in terms of combinations of formats and/or functions to be performed, we offer a modular assembly built around a magnetic conveyor. (e.g. Acopostrack from B&R). For ever more flexible needs, because potentially evolving in the short term, we offer a modular set built around a solution of shuttles conveyed by magnetic field. (ex: Acopos 6D from B&R) Finally, if these "standard" transfer solutions do not meet your needs, we are able to offer you a "special machine" variant. With this range of technical solutions, we intend to meet the needs of the Factory of the future by offering you flexible, agile, even scalable and innovative solutions if necessary.
Since 2009 CiTF has become a major player in industrial design in Nouvelle-Aquitaine (France).
Thanks to its varied know-how, it carries out your projects in their entirety and intervenes in the fields of robotics, automation, electricity and mechanics.Whether it involves improving a production line, traceability or even experimental research, we are at your disposal to respond to your requests while optimizing the costs, quality and deadlines.
CiTF relies on human-sized management and a bold team. We can count on committed and motivated employees, and capitalize on a qualified team present from the beginning. Our values ​​of transparency, teamwork, simplicity and agility allow us to offer you quality personalized services adapted to each of your projects.
Your satisfaction being our main objective.
Located in the Charentes-Cognac and Bordeaux basin, CITF has been particularly sought after by the wine industry. And now offers innovative solutions to integrate into your processes. The development of innovative solutions led CITF to the creation of an American subsidiary, CITF GROUP INC. in 2018, which allows it to bring its expertise to its customers across the Atlantic.