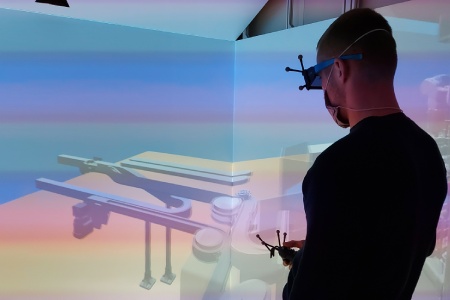 –

The Virtual Reality in the industry 

–
The VR for professionnal uses
You have already heard about this technology, it has been widely used in video games.
But did you know that uses have been able to evolve more and more to other fields?
Now, many different sectors use the virtual reality to work as in the medical one for example, and of course, in the industrial sector!
The Virtual Reality, that makes you feel the same sensations as in reality, is therefore a technology that has enabled us to enter the Industry 4.0.
Let us explain you how we use it at U2 Robotics in Unista company!
Project yourself in your future packaging lines
Imagine you could see every details of the robots, even the screws of your future machine when it is not yet manufactured. Wouldn't it be amazing? Let us tell you that it's totally possible with our 3D Cube and virtual reality!
This immersive technology will give you the chance to see on the real scale your potential unscrambler, case-packer or any another machine you could order.
Three big advantages of virtual reality:
You can easily see how the machine will be in your workshop
And you will be able to see all the components in details from it
You even can take measures of each parts on the real scale
And welcome to the flexibility of Industry 4.0!
On a 2D plan, we can have a first view of the machine, but with the technical drawings in 3D you can totally see if there are any defaults that could disturb the future production.
Seeing these defaults before making the machine allow us to adapt our plans, making us agile and flexible to best meet your request on the quality, security etc…
The best way to be convinced is to try
You have any project for a future production line?
And you would like to see how it could adapt to your workshop and machines that are already present?
Contact us to talk about your projects, and take advantages of all what VR can offer you to visualize them.