Grapes Sorter (Alien Machine)
–
CITF has developed a robotic machine for automated sorting of the harvest. Thanks to a robotic device by optical recognition, ALIEN eliminates after de-stemming the grapes all the waste resulting from the manual harvest which could degrade the quality of the juice obtained for vinification.
ALIEN is the result of an R&D project started in 2015, automation of the recovery of unwanted elements detected by the vision system
Integration of 2 DELTA robots recovering up to 4 elements per second
Realization of a mechanical assembly with a conveyor motorized and a chassis supporting the 2 DELTA robots
Integration of a vision system to detect unwanted elements such as stalks, leaves, petioles, as well as unripe and dried grapes
Implementation of an HMI allowing to define the color levels of the unwanted elements to be recovered by the robots
The HMI also makes it possible to know the status of the recovery tanks and to configure the mechanical elements (conveyor speed, robot speed, etc.).
Robotic machine for automated sorting of the harvest
Elimination after de-stemming the grapes of all the waste resulting from the manual harvest (stalks, pink berries, stem, leaves…)
Reduction of the demanding nature of the hand sorting task
Quick and easy cleaning (less than 30min)
Preserves integrity of berries
Technical characteristics of the grapes sorting machine

4 waste elements / second / robot


1500mm (59 inch) x 3800mm (150 inch)

 (width) 800mm (31.5 inch) x (height) 1100mm (43.3 inch)

Up to 400 MOG removed per minute
Up to 8 tons of grapes sorted per hour
Continuous sorting and regularity of the sorting rate
–

Components parts of the optical sorter grapes

–
Camera and lighting system
Tracking system
HMI interface
CEE/UL standard machine
2 delta robots
Harvest conveyor
Vaccum pump for waste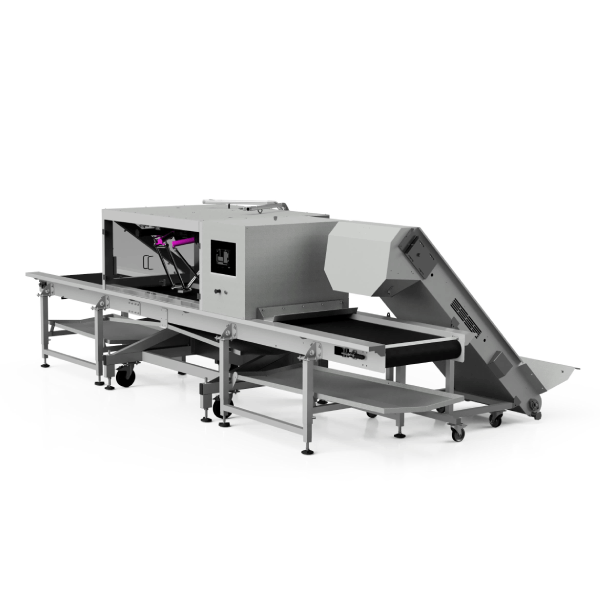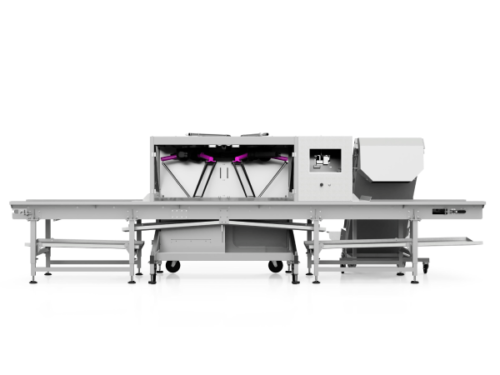 –

Options of the grape sorter

–
Modification of the conveyor's lenght
–

Description of the machine for optical grapes sorting

–
ALIEN will be placed in your reception line, either after a vibrating table or after another sorting system.
An innovative technology, Grape sorting after the harvest is an essential stage of your wine-making process. Usually done by hand, this stage needs operators. It is a highly difficult task for operators to focus long enough to maintain a regular production rate and an optimal quality sorting. With our innovative technology,  ALIEN, you save time and you gain efficiency and rentability! Equipped with a high-speed image recognition robotic system. the grapes sorting machine removes the harvest waste after the grapes destemming.
By allowing a continuous sorting and a regular production rate, the automatic grape optical sorting machine ALIEN intercepts up to 400 elements (stalks, pink berries, branches…) per minute and sorts up to 8 tons per hour. It reduces losses with its high precision sort. This innovative machine is easy to use with its touchscreen interface.
OPERATION OF ALIEN
1) Destemmed grapes land on the conveyor belt
2) The high-speed image recognition camera detects the MOG (Materials Other than Grapes), by identifying their shapes and colors, and sends the information to the robotic arms
3) The robotic arms suck up the MOG at high speed with suction nozzles